The Waffle
$5.00 – $8.00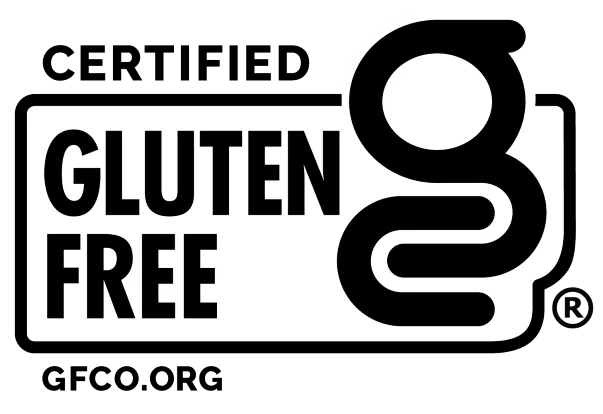 The Best Gluten Free Waffle Mix
You could say we're a little biased when it comes to waffles—the "Be happy. Be kind. Eat waffles." might give it away. But, we can't help but do a happy dance when our gluten free waffle mix cooks up like a dream. If you've been longing for waffles but have dietary restrictions due to allergies, your search ends here. Our waffle mix is not only certified gluten-free but it is also, milk-free, egg-free, tree nut-free, peanut-free, and soy-free, covering a wide range of allergies.  And in case you missed it, this is also a gluten-free vegan waffle mix. Simply substitute the egg and milk with your preferred vegan alternatives.  Breakfast is back, and it's better than ever.
We now offer 3 sizes!
18oz multi-batch pouch or 6oz single-use packet!
For our 5lb bulk size click here
Effortless, Allergen-Friendly Waffle Magic
So, what's the secret behind this waffle wonder? We've taken on the challenging part so that you don't have to. By simply following the ingredient ratios on the bag, you'll effortlessly whip up a batter with the perfect consistency, yielding fluffy golden gluten-free waffles with a delightful crisp along the edges – the only kind of crust we appreciate. Top these waffles with maple syrup or whipped cream, and you've got yourself a restaurant-quality meal.
More Recommendations
Looking for a waffle mix gluten free or gluten free Belgian waffle mix?  Our waffle mix works great in both American style and Belgian style waffle irons check out Josie's Favorites here!
Wholesale Gluten Free Products click here to visit our wholesale page.
ingredients
Brown Rice Flour, Potato Starch, Organic Cane Sugar, Arrowroot Starch, Baking Powder (sodium acid pyrophosphate, sodium bicarbonate, cornstarch, monocalcium phosphate) Salt, and Xanthan Gum
instructions
Mix all ingredients well. Batter should be smooth and may appear slightly thinner than conventional waffle mix. The batter will thicken as it stands! Heat waffle iron to desired temperature(medium cook preferred). Add batter to waffle iron and cook until golden brown.

Per 1 cup of dry mix or 1 single-use packet, add:
2 large eggs(or proportionate egg alternative)
¼ cup oil
¾ cup milk of choice
½ tsp vanilla (optional)

Per 2 cups of dry mix add:
3 large eggs(or proportionate egg alternative)
½ cup oil
1 ⅓ cup milk of choice
1 tsp vanilla (optional)

TIP: Try using coconut oil, it's delicious!
Shelf Life: 18 months from manufacture date
allergy-friendly substitutes
To replace 1 egg, you can try any of the following:
½ large mashed banana (you may need to add additional TBSP water if your mix seems too dry)
¼ cup plain pureed pumpkin
1 TBSP flax seed & 3 TBSP water
¼ cup aquafaba (aka bean juice – yes just the juice from a can of beans – garbanzo beans work great!)
Dairy Alternatives: